As much as people enjoy warm weather, too much heat can cause our bodies' systems to decrease our energy outpoint, reducing productivity. Heat is also often an enemy of electrical devices, reducing their efficiency over the long term. In fact, 57 percent of all component failures are due to heat-related issues. Air conditioning offers the fastest way to reduce the high temperatures, humidity, and dust that can lead to electrical equipment failures down the line. Learning how to read an air conditioner performance diagram is your first step toward making smart choices when buying enclosure climate control systems.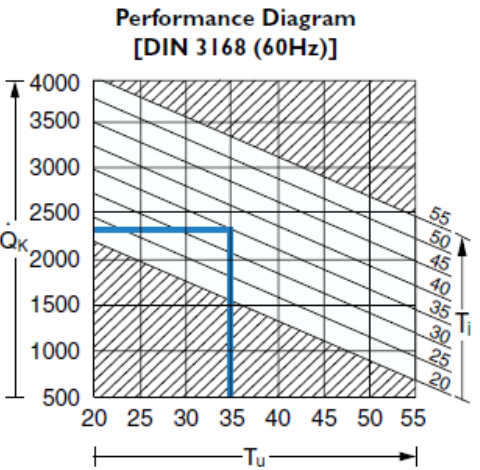 Figure 1. An air conditioner performance chart illustrates its functional cooling capacity.
DIN 3168 testing is performed at L35/L35. The first L35 refers to the internal temperature of the enclosure (35ºC) and the second L35 is the ambient temperature. In Figure 1, the horizontal axis is the outside temperature and the vertical axis represents the cooling capacity. The diagonal lines are the internal temperature intersects. To read the chart, select the outside temperature on the horizontal axis, draw a line up to the desired internal temperature, then draw a horizontal line up to the Y-axis. For the example shown here, the unit's cooling capacity at L35/L35 is 2350Watts (8000 BTU/hr).
Meet TopTherm
Rittal's TopTherm air conditioners are designed to protect delicate electronics from the hazards often found in harsh industrial environments, including heat, excessive humidity, dirt, airborne cutting fluids, They have proven successful in a broad array of industries, including machine tool shops, transportation, automotive, food and beverage, printing, process control, packaging and handling, and many others. All TopTherm units are tested to the DIN 3168 international performance standard, and meet all international certifications and requirements including UL, CUL and CE.
To learn more about extending the lifespans of sensitive electronics in harsh environments, just download our Thermal Management Solutions white paper.