---
Although Southern California is almost as well known for its earthquakes as it is for sunshine and movie stars, the most powerful quakes are relatively rare. Scientists believe the last mega-quake to hit the region was an 1857 magnitude 7.9 quake. The U.S. Geological Survey recently revised its estimate of how soon the next magnitude 8.0 or greater earthquake is likely to strike California, raising the chance of a mega-quake hitting California within the next three decades from about 4.7% to 7%. A magnitude 8.0 quake would produce 89 times more energy than the 6.7 Northridge earthquake of 1994.
However, California is far from the only state at risk of seismic damage. This map illustrates the various Telcordia Technologies (formerly BELLCORE) risk zones, classified from 0 to 4. Zone 0 has no earthquake activity, while significant earthquake activity is to be expected in zone 4. Enclosures designed for use in earthquake-prone zones must be designed with the stability and strength to withstand extreme dynamic loads, especially where the enclosures house active components.
---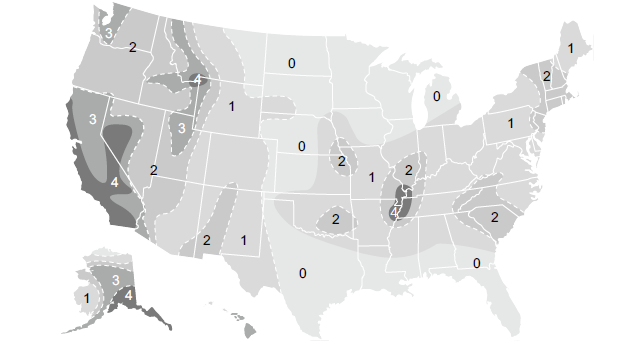 ---
Will your enclosure shake, rattle and roll?
EQE International Ltd., an independent institute at the University of Bristol, tested Rittal TS 8 standard enclosures with mounting plates on the basis of the Telcordia Generic Requirements (GR-63-CORE). These enclosures, with a weight load of 150 kg installed on the mounting plate, were certified as suitable for use in areas up to risk zone 3. With the addition of some special earthquake accessories, they were certified for risk zone 4 with a weight load of up to 490 kg installed.
For greater assurance of protection, earthquake-proof enclosures should be tested on a customer-specific basis, using the customer's own installed equipment.
A variety of important considerations go into the design and testing of earthquake-proof enclosures:
Earthquake zone in which the enclosure will be used
Maximum weight of the installed components
Method of component installation (mounting plate, 482.6 mm (19˝) mounting angles, etc.)
Any limitations with regard to dimensions. Earthquake resistance often requires selecting a wider or deeper version of an enclosure.
---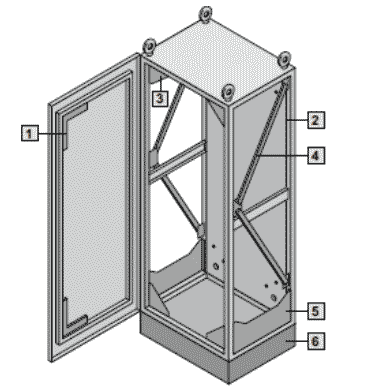 With the addition of some special earthquake accessories, TS 8 electronics enclosures can be configured for use even in areas with the highest risk of seismic damage.
To learn more about how to increase the seismic resistance in your facility's electronics enclosures, download a free copy of of Rittal's Technical Aspects of Enclosures handbook or find a Rittal distributor at http://rittalenclosures.com/distributors/.
Zone 4 door reinforcement • TS 8 standard frame • Zone 4 corner reinforcement • Zone 4 diagonal reinforcement • Zone 4 horizontal reinforcement • Zone 4 base/plinth